Fannin County, Texas – We are pleased to introduce Nicholas Edward Williams, multi-instrumentalist and vocalist who took a "deep dive" into America's musical heritage. This will be Williams' first concert with Harmony House, and YOU are invited to be in the crowd on Sunday, February 6, 2022, from 4:00 p.m. to 6:00 p.m., to enjoy his songwriting talents, as well as his interpretations of some of the 'greats'. (More on Williams below)
"As always, it's Williams' soft, soothing voice that wins you over.
~ Folk Radio UK
Make reservations by calling 903-583-2661, leaving your name, number of reservations needed, and contact information (preferably an email address). The suggested donation is $20 per person, payable at the door, in cash or by check payable to Nicholas Edward Williams. (All proceeds go to the performer, as it is not Harmony House's goal to make a profit.) Our goals are to bring quality music to a community of North Texans (as well as to people from other states) and to provide a quality venue where these exceptional musicians can be heard. If you would like to make an optional cash donation of $1 to help us with our snack costs, there will be a plate on the breakfast room table to do so.
Williams will play two 45-minute sets with a 30-minute intermission to snack on treats, breaks of necessity, grab another cup of java, and buy CDs! Whether you are a familiar regular here at Harmony House or a first time guest, you will be greeted with warmth and appreciation. Due to COVID and its variants, we want to take all necessary precautions to ensure your health. As a result, we are taking fewer bookings than during pre-pandemic days in order to be able to space guests further apart, and we require mask-wearing during the concert itself. Weather permitting, you can even walk outside or feed our goats. If new CDC recommendations are made, we will adjust our procedures to keep the music live and keep you healthy.
Harmony House is in a relocated and reclaimed vintage home on Wildscape Acres, 160 acres dedicated to wildlife management and conservation, www.WildscapeAcres.com. We call it our "little house on the prairie". It is located 10 miles north of Bonham, TX, and approximately 65 miles northeast of metropolitan Dallas. If you require directions, please advise when booking. We, Faye & Scott, have been your hosts and have been providing this venue for over 15 years now (excluding most of 2020 and 2021 for obvious reasons). We also provide the best "bottomless" cups of coffee, teas/punches, and a variety of cheeses and crackers (plus whatever Faye decides to make).
Here is what we ask of you: 1) If you are making a reservation, please "show up" or cancel in a timely manner. No-shows are a no-no. 2) Bring a snack to share with others at the tables provided throughout the house. 3) Relax and enjoy the show. If you know a song, join it (unless the performer asks otherwise).
Learn more about Nicholas Edward Williams, www.nicholasedwardwilliam.com
Host of the popular American roots music history podcast song catcher, Nicholas Edward Williams is a 37-year-old multi-instrumentalist and storyteller who is dedicated to "playing forward" preserving the songs and styles that have shaped our country: ragtime, Piedmontese blues, traditional folk, old time and early country. Williams has spent the past 15 years touring the US, UK, Western Europe and Australia, blending the spectrum of roots music into her signature style. He has opened for Taj Mahal, The Wood Brothers, CAAMP, John Paul White and Town Mountain, and performed on festival stages on three continents while making international folk radio DJ charts in 2019 with #6 Top Album, #7 Best Song.
Here's the info from the "American Songcatcher" podcast:
Slogan: Tracing the roots of American music, from its cultural past to today's artists who play it forward. Here are the songs of old, may they live forever.
Description: Each episode is an audio documentary, with soundscapes adapted to each time and place throughout the story. There are five in-depth segments: starting with the long journey behind a traditional song still played today, followed by four artists, on a timeline from their birth and fame to someone alive today. These segments are often composed of a variety of genres across the American Roots spectrum, and each artist has pioneered or carried the torch. Each segment ends with my personal interpretation of the song or a song curated by the artist, showcasing the longevity of the melodies as folk singers have done for hundreds of years. From European immigrants who brought their cultures to the Appalachian Mountains to songs from the South: Gospel, Ragtime, Blues, Country and the folk music derived from it all. We take a look behind the curtain at legends like Woody Guthrie, Son House, Hank Williams, Lead Belly, Doc Watson and Nina Simone, and shine a spotlight on many lesser-known artists who influenced generations, like Bessie Smith , Ola Belle Reed, Blind Blake, Odetta, Big Bill Broonzy and Dave Van Ronk.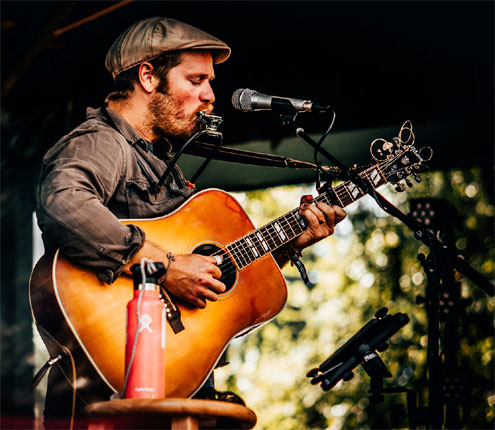 "The nomadic people told through a contemplative lens."
~Paste Magazine
www.NicholasEdwardWilliams.com; www.AmericanSongcatcher.com