Hot on the heels of their reimaginings of seriously cool vintage guitars, Harmony's revitalized new tube combos are sure to generate excitement for their tasty retro looks alone. But while the navy vinyl upholstery and white woven fabric grille cloth with gold piping make the H650 reviewed here a head-turner, its power and range of bright-to-dirty tones will also prompt some double takes.
---
The largest of the three new Harmony amps, the Chinese-made 50-watt H650 dual 6L6 1×12 H650 packs an ideal wattage that many big-club performers across many playing styles prefer. But it's not a loud amp, and it comes with a built-in attenuator that makes home and apartment use possible, plus a host of tricks and quirks that will appeal to retro-looking players. in a separate voice.
The tremolo is warm, round and sparkling.
feature film
The original Chicago-based Harmony company has been making well-made, affordable acoustic and electric guitars for decades. At one time, they were the biggest guitar maker in the country, if not the world. As electrics increasingly became part of the company's product line, Harmony also offered amplifiers, although these were usually made by third-party manufacturers. Some of these amps have become minor legends in their own right. The mid-'60s model H415 made by Sound Projects Co., for example, is considered by Trainwreck tube guru Ken Fischer to be a gem among affordable vintage amps.
The H650 doesn't look much like older Harmonys in terms of circuitry or tube complement. A pair of 6L6GC power tubes provide an output that Harmony says is 50 watts, although that's on the high side for these tubes (most similar dual-6L6 Class A/B amps generate 40-45 watts ). Four 12AX7 tubes drive the preamp, effects, and phase-inverter stages.
The cab is a semi-enclosed design, with a vented aluminum cover over the gap between the upper and lower rear panels. Inside, a single Italian-made Jensen Tornado Stealth 65 12-inch speaker converts all that energy into moving air. The whole rig measures around 25.5-inches x 19.5-inches x 10.5-inches and weighs 49.8 pounds, which is still quite heavy. But a wide padded leather handle makes transporting this substantial amp much more manageable.
Removing the top rear panel reveals a rugged circuit board, with through-hole surface mount components. All potentiometers, switches and tube sockets are mounted directly to the chassis itself, which should help with long term reliability. Mounted on the grid side of the chassis, the tubes are difficult to reach, but it is not impossible to access and replace them without pulling the whole chassis.
The top-mounted control panel offers a single channel with gain (which doubles as a push-pull control for amplification), bass, mids, treble, reverb, tremolo depth and speed, presence and master volume. The rear panel houses two speaker jacks with a switch for 8 or 16 ohm output and a rotary selector for the built-in attenuator, which offers 1 watt, 0.5 watt and 0 watt output for quiet recording via the line out. There are also two TRS footswitch jacks for a tremolo/boost and a reverb/effects loop, as well as a send, return and bypass switch for the effects loop. Harmony conveniently includes both footswitches with the amp.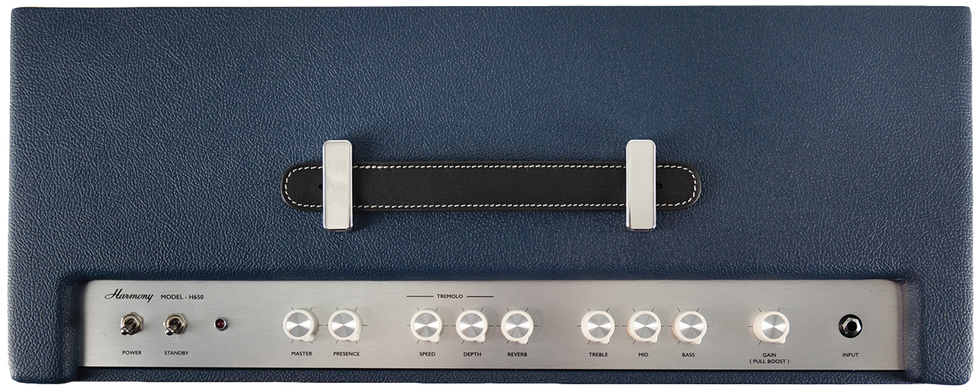 blue moves
Whether with humbuckers, single coils or P-90s, the H650 has a distinctive sound, if a bit offbeat at times. At lower-to-mid volumes, it deftly produces clean-to-clean sounds reminiscent of a 6L6-based black- or silver-panel Fender rig: firm, relatively mid-bass and sparkling, glassy high-frequency tones. Harmony's greatest strengths are rooted in this foundation, but the spring reverb and tube tremolo help create lush retro soundscapes that are well-suited to the fundamental vocal. The tremolo is warm, round and sparkling. The depth control taper increases significantly in the last 10 percent of its stroke, but all sounds great. The H650's reverb also sounds cool. It's roomy, with a delightfully long decay but is never overly splashy, even at max settings. The effects loop works efficiently and the external bypass switching is a bonus.
Things get crazier and more interesting when you crank the H650 to the point of overdrive. And whether you find these overdrive sounds fantastic or raunchy depends on your own taste. With the gain over 1 o'clock and the humbuckers or P-90s up front, the distortion generated by the amp can sound a bit seedy and fizzy, which is very much in line with the ethos of extensive catalog amps that make vintage Harmony amps. attractive. Engaging the boost makes it even more so, as most drive pedals do. That said, there's no end to the raw, garage-rock fun you can have with max gain and boost turned on. Don't expect archetypal high-pile classic rock tones.
The built-in attenuator is good for allowing ultra-quiet overdrive at bedroom practice volumes, but high-gain sounds can sound relatively gnarly and compressed at 1 watt. It also seems that, given the effort of including such a feature, it would have been worth creating a 10 watt setting. Although the silent recording feature is a big plus for players who are reluctant to justify a 50 watt amp.
The verdict
The H650 offers an interesting, if somewhat dichotomous, palette of sounds. For one thing, it's capable of clean, black-panel Fender-style tones that sound impressively refined if you stay in the amp's sweet spot. On the other, we get a hairy and torrid overdrive in line with the amps that constituted Harmony's competition in the 1960s: Danelectro, Silvertone, Valco, etc. The ethereal reverb and tremolo are a nice bonus. But if the H650 works for you, that's probably how much you like the raunchiest side of the amp.
Harmony H650 Demo | First look
From articles on your site
Related articles on the web