Sleep during the war, in 2017, explored a more determined and mystical song enveloped in hypnotic and exuberant rock. For 2018 ATW, the group IV-like a retreat (replacing Headley Grange for a Tennessee shack) extracted a darker, more chaotic A side also matched by a B side which is a psychedelic pain reliever. And the 2020s Nothing like the ideal shows the temporary power trio (drummer Robby Staebler completes the line-up) levitating balance in a menacing metal mortar that binds and anchors their emotional and effervescent excursions. (Drop the needle on nearest "Rats in Ruin" and let it invade you.)
Right before their sold-out show at Nashville's historic Ryman Auditorium (on Halloween day, no less), Witches guitarist Ben McLeod and bassist / singer Charles Michael Parks Jr. hosted PGChris Kies on stage to review their setups. The resulting conversation covers their modified warhorses, deciphers their esoteric stacks, and reveals the secrets of the "Broom of Woe." In addition, we are plugged into the new builder Elad Shapiro from Dale Amps.
[Brought to you by D'Addario 360 Rechargeable Tuner: http://ddar.io/Nexxus.RigRundown]
McLeod's Monster
Kicking off the Rundown, much like the 2016 episode, we have Ben's beloved 2010 Gibson Les Paul Traditional. He made several modifications to make this instrument a third appendix. McLeod had removed the original gear knobs, opting for witch hats (of course). However, he's a big believer in precise volume manipulation, so he turned the speed knobs back on for both volume controls. He replaced the plastic nut with one made of bone. He says it not only helps with intonation, but makes the guitar sound smoother and smoother. The original Classic '57 bridge humbucker has been replaced by a DiMarzio Super Distortion. And, while it was mentioned last time around, it's worth noting that the pickguard was taken out because McLeod is a huge fan of Duane Allman and he didn't feel like covering the whole gust.
All guitars take D'Addario NYXL (.010 – .046) and are usually tuned to standard D or drop C (CGCFAD). And all the maintenance of his guitar is provided by Eastside Music Supply tech and PG contributor Derek Ness, who is the author of our 2019 edition of No-Brainer Mods.
Knaggs nailed it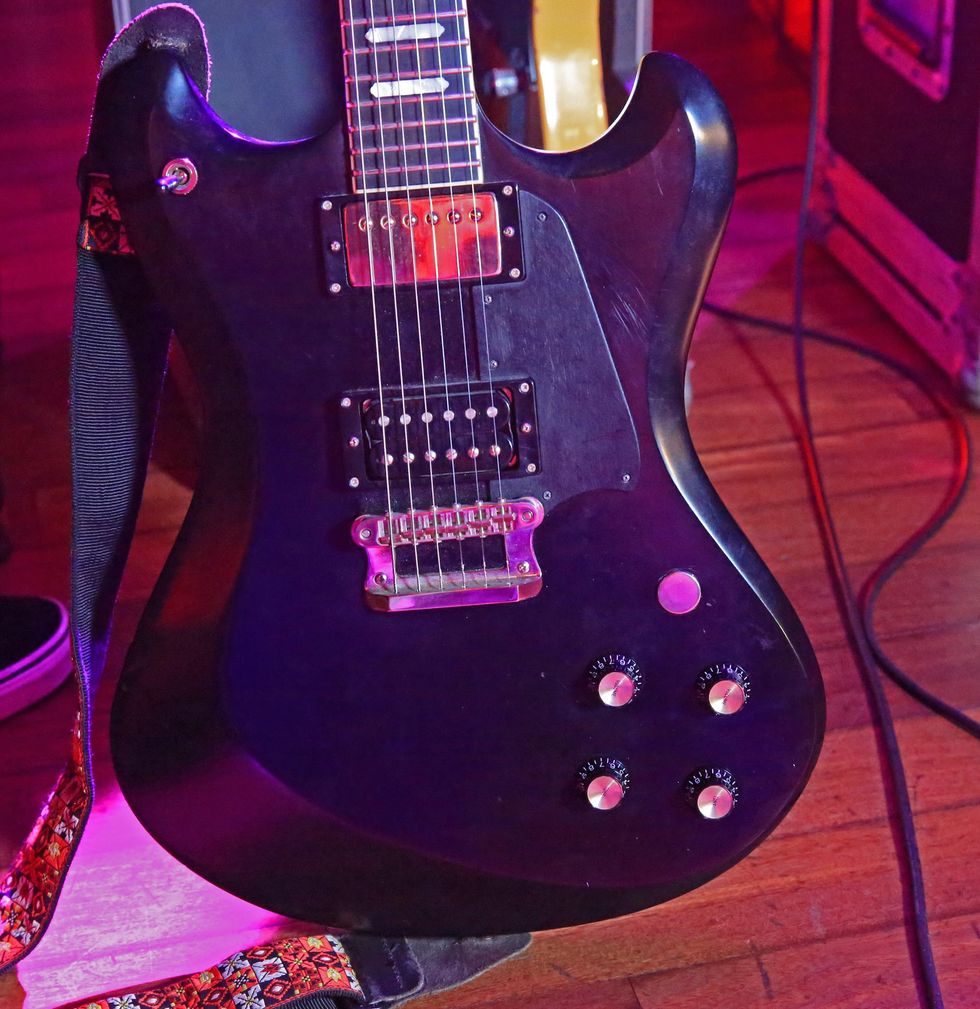 When a custom builder like Joe Knaggs comes calling you as a fan, you respond. The Maryland luthier wanted to send McLeod some guitars and the 6-string witch said, "absolutely! The SG-ish Honga is his favorite. "This guitar has an unholy amount of mids, and it's so awesome," McLeod gushes. "It's an incredibly well-built guitar. The glued-handled, double-cutaway ax has a scale length of 24.75 "and comes with Bare Knuckle mules. The only mod on this guitar (again made by Derek Ness) was swapping out the selector switch. mic from bottom (near control buttons) to top top, like Les Pauls.
Roy marks the spot
"I'm obsessed with Roy Buchanan," McLeod admits. "So I had to have a guitar that looked like his, with a caramel blonde finish and a black pickguard. This bomb is a Fender American Vintage '52 Telecaster. Ben reversed the control plate and placed the volume knob before the tone control, so he had easier access to the volume knob for steel pedal turns. He also dropped a Fralin Blues Special Tele single coil set because he heard his running favorite picker, Kenny Vaughan, loves them. For ATW, it's a safety net first and foremost, but when he's home he most often plays this T. (And for a taste of the sound, spin the surf-western side project of Ben El Castillo.)
Slippery slides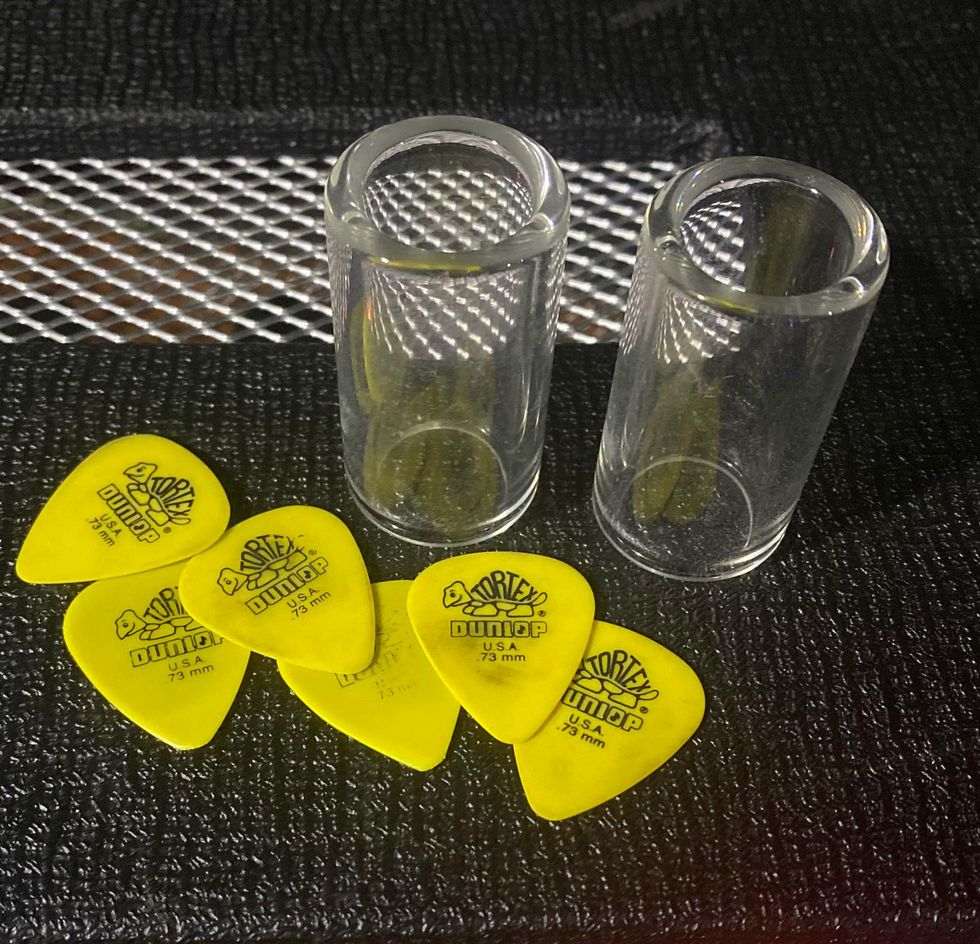 For songs like "Rats in Ruin", McLeod will grab a Dunlop Heavy Wall Large Glass Slide (213) and attack the strings with Dunlop Tortex 0.73mm picks.
Fourth grade mudguard
This is still the same reissue of Fender Twin Reverb that Ben was using in 2016, which he's been blowing up since grade four, when he got it for Christmas. He had him fitted with a master volume knob (far right control) so he could reduce his roar at home. (He leaves it wide open on stage.) Another modification was to remove the Jensens pair for a few alnico Warehouse 50W Blackhawks guitar speakers.
The monster of earnings
This mysterious rock box is a very angry interpretation of a JCM800 50W. Built by Nashvillian Elad Shapiro (Dale Amps is the company), it features a Hiwatt output transformer and Mullard EL34s. A 2×12 open-back Dale cab is loaded with a Warehouse ET65 guitar speaker set. In flight, it uses either the Twin Reverb (clean) or the Dale (heavy). (During the recap, Ben hints at an upcoming 100W version that will be used during their winter run and through 2022.)
For those who cannot read Hebrew, the controls are: (above, from left) preamp gain, main volume and presence, while below you have the treble, midrange and bass.
Lucky for us, we had the amp builder himself on hand, and here's what he said about creating it: "It's a 4-stage high gain amplifier with three EL34s output, three 12AX7 in the preamp, and it has a Hiwatt Partridge output transformer. I like to use them because they are very open and they sound like a chime. The biggest difference between this and a JCM800 is that it doesn't have a cold cut stage – the way the tube is polarized makes it do something unpleasant to my ear. And it cleans really well when you turn the volume down.
Pack of 6 and a Wah
As diverse as the band's sound may be, Ben keeps his steps relatively simple. His adorable baby Boss BD-2 Blues Driver always finds a place on his board. The rest of its colors come from new friends: a duo of Electro-Harmonix (Holy Grail and Deluxe Memory Man 1100-TT) and MXR (Carbon Copy and Phaser 90) cases, and a Stomp Under Foot La Scatola Nera. This pedal was the result of a request from Ben to Matthew Pasquerella of SUF "to have a new fuzz different from his alabaster pedal and add an octave". On the right it has a Dunlop Cry Baby 95Q wah which replaced its Vox V847 Wah as it prefers its wide sweep and not having to engage the circuit, thanks to its automatic return switching. The BigShot ABY True Bypass Radial Switch controls the amps, while the TC Electronic PolyTune 3 Mini controls its guitars.
In our last Rundown, we pulled our jaws off the ground and scratched our heads when we first met 1972 amputee bassist Charles Michael Parks, Jr. Rickenbacker (left). By this time he was using the astonishing 4001 most of the night. The only submarine occurred when purchasing his 1966 Rickenbacker 450/12 for The dying surfer meets his creator songs Call Me a Star "and" Talisman. "As the story goes, the guy he bought it from was left-handed, and he cut off the top end, cut off part of the doll and turned it over to play left-handed. Parks got the bass really cheap, set it up to play for right-handed, reworked the electronics, shaved the bridge and pulled it back, then fitted it with a suitable stereo jack . It usually has D'Addario Half Round (.050 – .105) strings. And, as Parks says, "It's a battle ax. If being dragged behind a truck had a sound, it would be this one." .
Since then, he's asked budding luthier and tech genius Derek Ness to build him a more reliable and reliable replica of the eccentric (right). Along with the original's brighter toaster pickups and frayed appearance, the biggest difference is that the Ness Custom model has a Hipshot BT3 Bass Xtender detuner.
Daddy played bass
This 1962 Fender P bass was purchased by Parks' father in 1965 and was recently given to him. His father's friends were sound engineers and, like the designer of P, didn't play the instrument, but they tinkered with its circuitry a lot by inserting a Jazz bass pickup and additional switching. Soon after he bought the P, his father smashed the switches and made it sound weirdly beautiful.
The Groove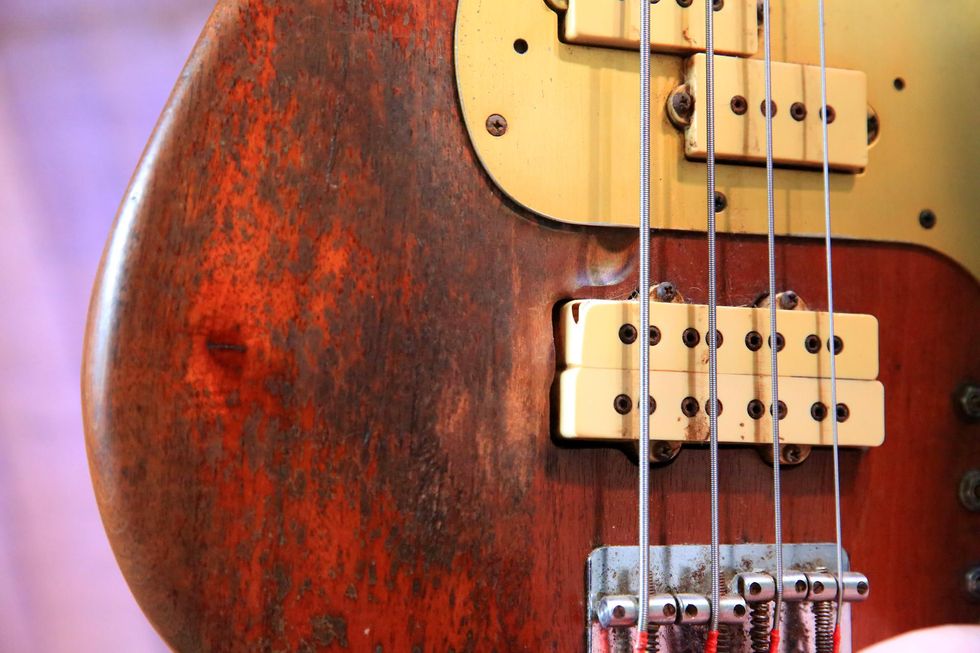 After all these years playing it, Parks' dad worked a serious fingerprint just above the micro J.
SG me at 69, please
A week after Woodstock (perhaps after watching Carlos Santana tear up an SG Special), Parks' dad picked up this 1969 Gibson SG Custom (factory built with just two pickups and a Bigsby) from Hazen's Music Store in Plattsburgh, New York. Once again, being the generous father that he is, he gave it to his son.
Twin towers
Parks confides his tone to Dale, aka Elad, Shapiro too. The clean amp (right) pumps out 120W and is loosely based on an Ampeg circuit, but uses six 6L6s (instead of KT88s) because Elad prefers "a rounder, more powerful and bluesy sound". It features additional midrange control and a rugged transformer for a solid DI output (aimed at the benchmark Motown tone). The left side head pursues the thunderous sound of a Sunn Model T. It has an additional gain stage and boosted power supply for added tension, making it the ultimate doom broom companion. Both Dale speakers have a single 15 "speaker (bottom) and a pair of 12 (top). The 1980s Sovtek Mig 100H is just a clipboard backup for now.
Parks pedal play area
The lone survivor of our 2016 rundown is Parks' Red Panda Raster, due to his love for his reverse delay setting. New features include a Boss DD-200 digital delay (only used on "Diamonds"), Greer Little Samson, MXR FOD (dirty amp touches) and Boss RV-5 digital reverb. A Radial Twin City Active ABY switch controls the amps, a Radial Voco-Loco effects switch colors his vocals, and a Sonic Research ST-300 Turbo Tuner keeps his instruments in line.