Describing themselves as "a band for dancers and listeners", Australian band Andrew Dickeson's Blue Rhythm Band has been delighting swing fans around their hometown of Sydney for nearly a decade. Now the whole world has the chance to get to know the quartet, after the release of their first album at the end of 2021 Swing the blues.
This initial effort is an unabashed album of crowd-pleasing floor-fillers, reflecting their popularity in the Down Under swing dance scene. Think greatest hits from Count Basie, Chick Webb, Jimmie Lunceford, and more, with just a few slower numbers to get everyone catching their breath. It's a setlist sure to grab the attention of jitterbugs around the world, while offering something new to non-dancing swing fans.
That's because these versions are rearranged considerably, to extract a big-band worthy sound from a four-piece combo. Brad Child's tenor saxophone does a lot of heavy lifting, carrying all the horn sections depicted in classic recordings. The result is smooth and cool – Basie's "Splanky" sounds particularly languorous with the saxophone in the foreground, compared to the muted original trumpet. Likewise, "Undecided" sounds softer than in its Webb or Goodman manifestations, which give the melody to alto saxophones and clarinets respectively. The effect reminds me of one of my favorite LPs, on which Louis Jordan lends his cool rhythm 'n' blues to the trad jazz sound of Chris Barber.
Besides the tenor, for me the most outstanding instrument in these arrangements is – and there is no prize for guessing it – the piano, played by Peter Locke. Drummer Dickeson is unexpectedly retained, given that it is his name on the marquee. He could have been all Gene Krupa on this record, but he doesn't, except for a few seconds of "Undecided" and "Jumpin' At The Woodside." And if Jacob Graham's work on double bass is solid, he doesn't have much room to stretch his fingers (relatively rare solos during "It Don't Mean A Thing…" and "Stompin' At The Savoy") .
And so it is Locke who is in charge of filling in the rhythm section, performing almost all the solos not taken by Child. He does this with impressive dexterity and flawless fluidity, in addition to providing a rich and dynamic accompaniment that evokes the texture of an entire big band behind Child's spotlight. Part of this composition could almost be a solo in itself, making it seem like Locke worked phenomenally on this project. To put it another way, I'm currently trying to up my game when it comes to piano solos – this record is one that I'm going to use as inspiration.
Of the tunes that won't get you moving (unless you know someone well enough to dance them slow), "In My Solitude" – famously recorded by Billie Holliday in 1946, backed by Joe Springer and co – is a a particularly pleasing piece of arrangement, with just a hint of Brazilian bossa nova. All told, that's enough to warrant a near-perfect score, my only complaint being Child's slightly disappointing and somewhat hesitant solo work on "Jumpin' At The Woodside." But it's worth checking out the album on Bandcamp and reliving all your favorite big band dance camps, with a small band feel.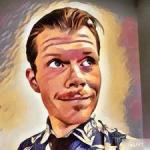 Dave Doyle is a swing dancer, dance teacher and journalist based in Gloucestershire, England. Write to him at [email protected]. Find him on Twitter @DaveDoyleComms.